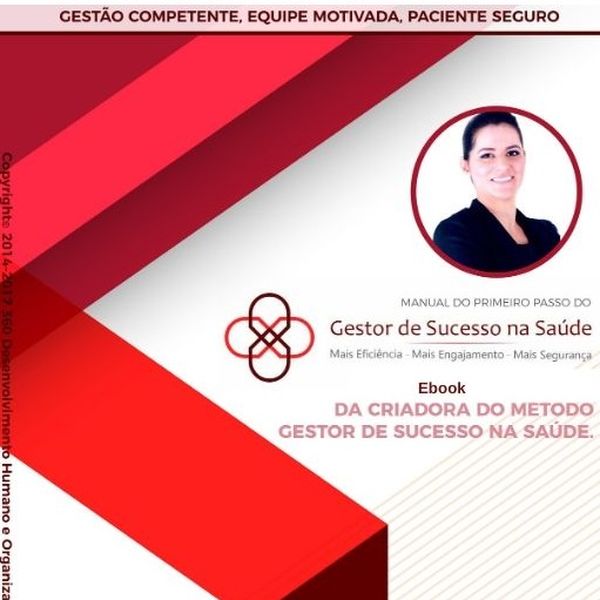 Vivenciando o contexto dos Gestores na saúde, durante cerca de 8 anos, nesse período, Suzele Figueiredo reuniu padrões de comportamentos característicos , e aliado a ciência, cria o método Gestor De Sucesso Na Saúde- GSS, tornando possível que outros Enfermeiros, Farmacêuticos, Nutricionistas, Médicos, Fisioterapeutas, Psicólogos e demais gestores de equipes, com o objetivo de melhorar seus resultados com eficiência, engajamento e segurança.
Sobre Suzele Figueiredo
Idealizadora da 360 Institute acredita que com a atuação sistêmica, os resultados são sustentáveis. É Trainer em Constelações Organizacionais, Coach and Consult Sistemic pela Universidade Iberoaméricana (México) e pelo Elsever Institute (Brasil), Executive and Bussines Coaching – BCI e SBC, Analista Quântica pela Universidade Quantum (São Paulo), Training in Alfa Coach pela Worth Ethic Corporation (USA), Master of Business Administration em Gestão Empresarial pela Fundação Getúlio Vargas, Analista de Perfil Comportamental. Criadora do "Método Team Coaching" com foco em Equipes de Alto Desempenho na Saúde, tais como equipe de Oncologia Médica Pediátrica, Superintendência Médica e Administrativa Hospitalar, dentre algumas das posições atendidas na saúde com seus Programas de Coaching estão; Secretário de Saúde, Provedor, Superintendente, Diretores Executivos, Diretores Médicos, CEOs, Diretores Financeiros e Gerentes Operacionais. A cerca de 8 anos na saúde, atuando como Coaching Executiva em hospitais filantrópicos e intuições privadas , apoia os profissionais da saúde em sua nobre missão de assistir o Ser Humano nos momentos mais difíceis e significativos da vida ao passo que lidera suas equipe de forma eficiente. Possui mais de 6 mil horas no desenvolvimento de líderes em instituições.

Read More