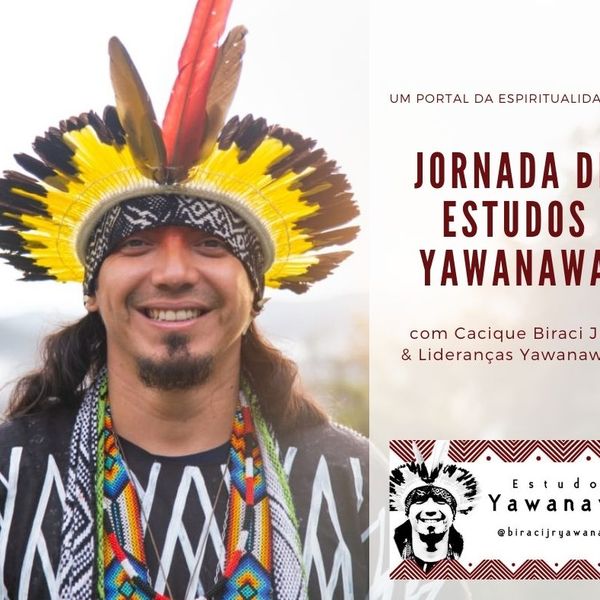 ENGLISH BELOW
Esse é um portal de estudos dos saberes tradicionais Yawanawa. Um convite e uma entrega do Povo dos Queixada, que vão compartilhar das suas medicinas e saberes através de 10 encontros virtuais.
Cacique Biraci Jr. é a liderança indígena da Aldeia Nova Esperança, do Povo Yawanawa, localizado no Território Indígena do Rio Gregório, Acre. Ele se abriu à partilha de saberes e convidou importantes personagens do Povo para compartilhar os saberes tradicionais.
Os Yawanawa são um povo visionário. Eles ousam dar um passo a frente e se conectar com o mundo, na confiança e entrega de que o melhor virá. Eles nos ensinam sobre a generosidade da partilha e o potencial de expandir a luz dos saberes ancestrais.
É nessa confiança e entrega que está se abrindo um caminho lindo: a Jornada de Estudos Yawanawa ONLINE é um curso dividido em aulas semanais de aprofundamento na cultura e tradição.
Algo inédito e muito almejado por txais do mundo inteiro. Pessoas de todos os países estão se reunindo para compartilhar esse portal! Vem com a gente!
.
.
This is a portal for the study of traditional Yawanawa knowledge. An invitation from the People Queixada, who will share their medicines and knowledge through 10 virtual meetings.
Chief Biraci Jr. is the indigenous leader of the Aldeia Nova Esperança, of the Yawanawa People, located in the Indigenous Territory of Rio Gregório, Acre-Br. He opened to share knowledge and invited important people from the People to share traditional knowledge.
The Yawanawa are a visionary people. They dare to step forward and connect with the world, trusting that the best will come. They teach us about the generosity of sharing and the potential to expand the light of ancestral knowledge.
It is in this trust and surrender that a beautiful path is opening: the Yawanawa Study is a course divided is a course divided into weekly classes to dive deeper at the culture and tradition. Join us!