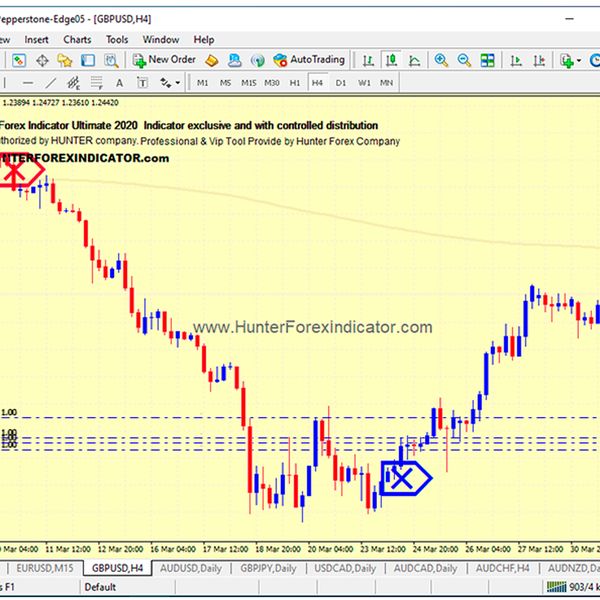 🎓 HUNTER Forex Indicator is developed for Metatrader is a Fixed and No Repaint signals send/mabe by calculations inside the market capable of antecipating forces of moviments in EXAUSTED ZONES of the trends inside MT4 charts. This Is one of the Best modern Forex Indicators Signals concept.
🎓 HUNTER indicator is The most efficient way to Trade Manually and safely in Forex Market (Majors and exotics pairs), Indices, bonds, cryptos and shares, which is one of the best indicator for MT4 plataform. VIP Tool. Powerful fixed signals not move or transfer the signal to another candle. www.HunterForexIndicator.com
⚠️HUNTER is a simple Indicator, it can be used for any type of trading and any type of counters/pairs, the interface of the indicator is very simple to use, buy when blue signal apears and sell when red arrow apears ; so you can use right immediately, the success ratio is 93% higher than the failure ratio, is a solid technical indicator.
🔹️User Friendly Design. The design of indicator is so easy to understand Blue arrow for BUY and Red arrow for SELL
🔹️Works for all type of Trading style. If you are short term, long term or Scalper it will easily fit in Dedicated Support.
🔹️Our friendly Help Team can be reached all the time, via Live chat and Email. Contact us for more information and take a look in our website with more informations.
🎓Hunter is a complete and last generation Indicator, is a *Lifetime License*, not have Monthly Fees and give in your accuracy signals. You also have acess to Vip configurations:
🔔 SOUND ALERTS / 🔔 VISUAL ALERTS / 🔔 EMAIL ALERTS actvation option. This Power indicator help you open your trades with maximum eficiency. Start catch the best moment of the Forex Pairs Market to open your trades and take better decisions.
🔔 SOUND ALERTS for all signals;
🔔 VISUAL ALERTS texts for all signals;
🔔 EMAIL ALERTS notifications texts for all signals.