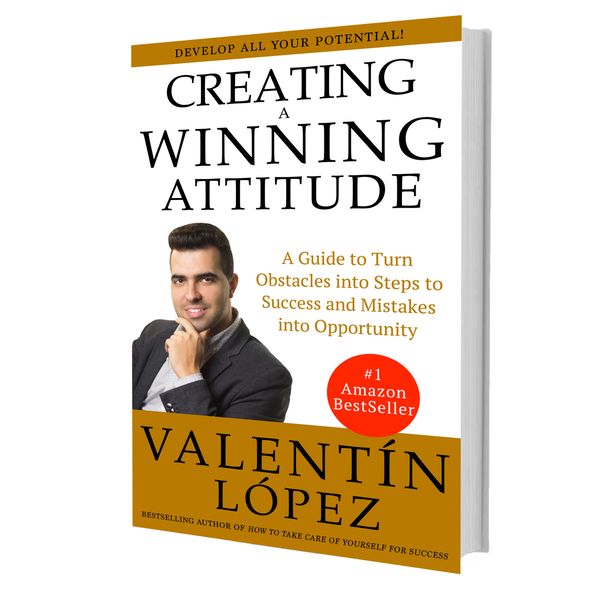 You can achieve success in whatever you undertake, and this book will teach you how to improve your emotional intelligence and how to create a winning attitude to turn obstacles into successes and errors into opportunities. "Creating a winning attitude" is the second publication by the famous author Valentín López after his famous Best Seller: "How to take care of yourself for success" translated into more than 10 languages, offering thousands of copies with the purpose of inspiring and empowering people in all the world.
This work is divided into three parts:
ONE PART: Assimilation!: This part is about the past. Analyzing the state of your mind and how it has been nourished during all these years.

SECOND PART: Understanding!: It's about the present. We analyze how to break limiting conversations and mental conditioning. (You can not change anything in your life unless you are aware of it.We will go from a state of unconscious incompetence to a state of conscious incompetence). We will work conscience and soul to help you with your life purpose and draw a plan to achieve it.

THIRD PART: Execution!: About the future. We develop our vision, innovation, creativity and visualization together with the shelter of authentic winning attitudes that will help you achieve your goals and achieve a better quality and excellence of life.

In "Creating a winning attitude" you will not find any fashionable "magic pill". What you will find guaranteed are fundamental principles about NLP, emotional intelligence, and the construction of an overwhelming winning attitude against the fears, the failure and the mistakes of the past so that you reach your well-being and get your best version. You do not get used to the idea of ​​things you can achieve in your life when you create a winning attitude! Enjoy reading this book, the results will surprise you!

"A fierce and winning attitude will be the key that will lead you to open any door, go ahead!, your attitude defines your altitude".

Read More