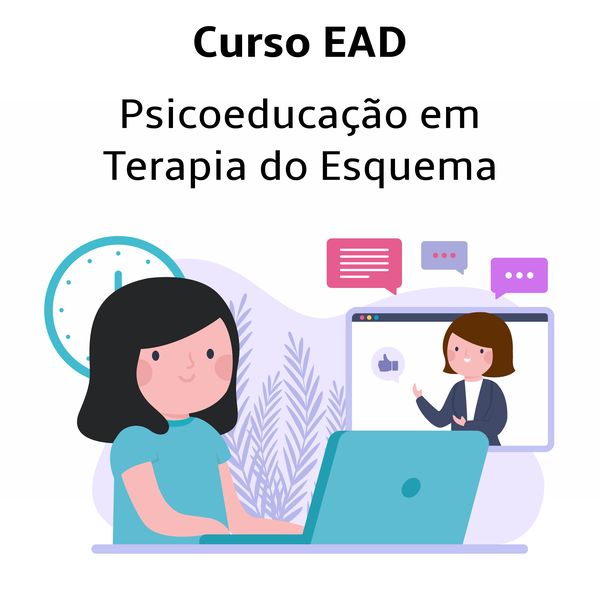 A psicoeducação é uma ferramenta extremamente importante no processo psicoterapêutico e que é utilizada durante todo o tratamento.
Além disso, é uma das principais formas de agregar autoconhecimento sobre seu funcionamento e da sua personalidade.
Nesse curso, queremos que você possa compreender seus esquemas e sua forma de agir, auxiliando a se conhecer melhor e tomar melhores decisões para sua vida.
Confira o que curso oferece:
Ethos: quem somos?
Apresentação inicial
O que é Terapia do Esquema?
O que são os esquemas?
Compreendendo os 18 esquemas detalhadamente
Modos esquemáticos – o que são?
Pressupostos para a mudança
Confira o currículo da Psicóloga Luisa Maciel - ministrante do curso:
Psicóloga (CRP 07/21575);
Mestre em Psicologia Clínica pela PUCRS (2015-2017);
Especialista em Terapia Cognitivo-Comportamental (Wainer Psicologia Cognitiva - 2012-2014);
Formação em Terapia do Esquema (Wainer Psicologia Cognitiva - Internacional Society of Schema Therapy - ISST - 2015);
Formação em Terapia Cognitiva Sexual (2019);
Certificação Standard em Terapia do Esquema pela  Internacional Society of Schema Therapy (ISST) em 2018;
Terapeuta de adultos e casais;
Sócia, diretora, professora, supervisora e psicóloga da Clínica Ethos - Psicoterapia Cognitivo-Comportamental desde 2014;
Professora convidada em diferentes Especializações de Terapia Cognitivo-Comportamental e Terapia do Esquema no Brasil;
Possui experiência e foco clínico no atendimento de Transtornos de Personalidade, Terapia do Esquema e queixas sexuais;
Membro da Internacional Society of Schema Therapy (ISST);
Membro da primeira diretoria da Associação Brasileira de Terapia do Esquema (ABTE).
OBS: informamos que só ganhará o certificado do curso quem assistir a todos os vídeos.
ATENÇÃO!
Após a aprovação da compra, você terá 60 dias para concluir o curso!