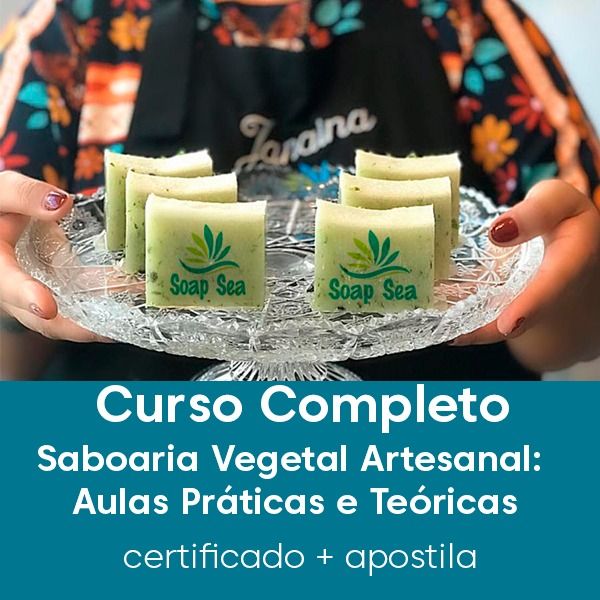 O combo perfeito para você que deseja ganhar dinheiro com sabonete artesanal e ainda criar um nova fonte de renda confiável! Desenvolvido por Janaina Barbi o Curso online de Saboaria Natural Vegetal + Ebook de receitas vai ensinar você a gerar uma segunda renda extra rápida e segura, transformando sua casa em um ateliê de Saboaria Artesanal sem necessitar de reforma ou adaptações industriais. Neste curso online você aprenderá como fazer sabonete natural artesanal no método Melt and Pour de forma prática, além de ter acesso ao ebook de receitas completo! também entregamos um certificado autenticado ao final do curso.
Vamos revolucionar o empreendedorismo do Brasil através da arte da saboaria e preservando o meio ambiente! =)
QUEM É JANAINA BARBI:
Meu nome é Janaina, mas pode me chamar de Jana. Sou bióloga de formação, tenho um MBA em gestão de vendas, e trabalhava com licenciamento ambiental. Sempre tive um problema de ter pele muito sensível há química, e comecei a procurar cosméticos naturais e, principalmente, sabonetes artesanais. Acabou que me apaixonei pelos sabonetes artesanais e resolvi desenvolver minhas próprias receitas. As pessoas começaram a gostar, perguntavam por quanto eu vendia, foi então que, me despertou a vontade de ter minha própria empresa de sabonetes artesanais vegetais, a Soap Sea.
Atualmente possuo domínio metodologias de saboaria: Melt and Pour, Hot Liquid (base cristal) e Cold Process. Dentro do processo Melt and Pour, desenvolvi uma metologia com base de explorar os corantes naturais da flora (ervas, sementes e flores), afim de, substituir os sintéticos. Capacitei mais de 100 alunos(as) formados na região sul do Brasil, em Curitiba, Balneário Camboriú e Joinville.
Meu sonho é ajudar as pessoas há se tornarem independentes financeiramente por meio da arte da saboaria artesanal vegetal, respeitando o planeta e futuras gerações.