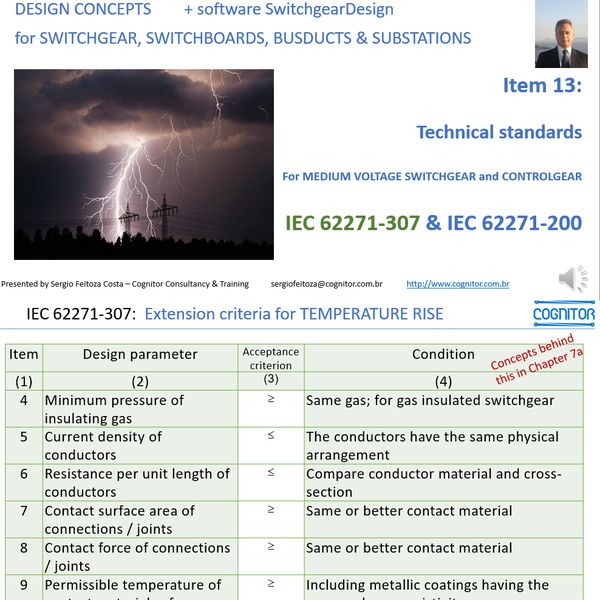 IEC TR 62271-307 has created numerous opportunities for manufacturers to become more competitive by avoiding many costly tests. It aims to extend the validity of type test reports performed on a certain panel (the "head of the family") to replace tests on other untested panels of the same family. Some rules must be met. These include that test reports for equipment tested to IEC 62271-200 or 62271-201 contain more detailed information than current reports. Testing laboratories only include in reports what is explicitly required by the standards and therefore the manufacturer must combine, before testing, what will be in the report for IEC 62271-307.
Failing to do so, the high investment in testing will yield much more limited results than would be possible. Sergio Feitoza, video presenter is co-author and was a member of the IEC working group that prepared this TR at IEC. Knows, therefore, the details in the lines of IEC 62271-307
This chapter also shows fundamentals of IEC 62271-200. The standard specifies the requirements for indoor and outdoor medium voltage panels, with compartments including fixed and removable components, filled with fluid (liquid or gas) to provide insulation. The focus of the chapter is on IAC classification and procedures for internal arc testing. Except for internal arc testing, testing concepts are in Chapter 11 and not here.

Read More