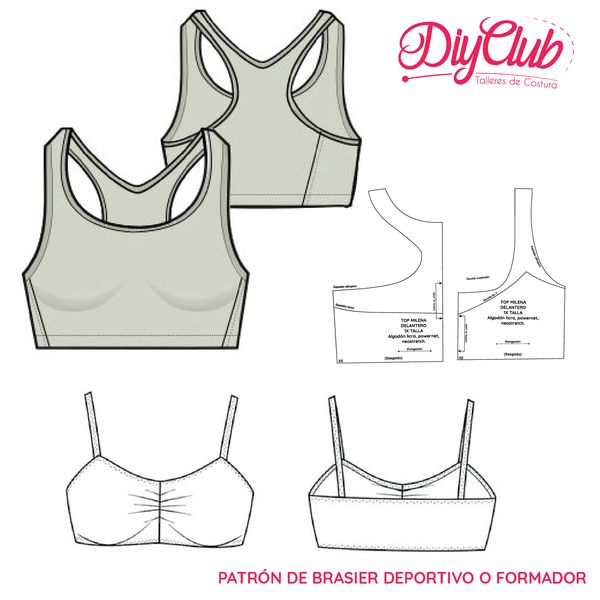 No puedes encontrar el bra deportivo que te haga sentir fuerte y segura cuando mientras te estás ejercitando? Lo has acabado de encontras!! Este bra está diseñado para formar y comprimir tu pecho. La cantidad de soporte depende de la tela que uses**
*Tallas: el patrón incluye 5 tallas (XS, S, M, L, XL)
*Habilidades necesarias: necesitas tener experiencia cosiendo con telas elásticas y colocación de elásticos.

*Materiales que necesitas: el bra ocupa 0,75 cm de tela, las telas que puedes usar son: cotton lycra, jersey, spandex, lycra. Insumos: sesgo o bies elástico, tiras de sostén.

*Instrucciones de impresión: el patrón viene en dos formatos: A4 y A3. Si lo imprimes en A4 lo tendrás que armar guiándote de los números en los costados. Asegúrate que tu impresora esté en el formato correcto.

Disfruta tu patrón!!

_______________________________

Can't find the right sport bra that makes you feel powerful and strong when you're working out? This bra compress the chest to hold your breasts in place and fit them tight. The amount of support it offers will depend on your fabric choices.

*Sizes: it includes 5 sizes (XS, S, M, L, XL)

*The skills you need: sewing with lingerie elastics and stretch fabrics.

*Supplies needed: you can use nylon lycra, spandex, plain knitting, polyester spandex, cotton lycra, elastic bias, bra straps.

*Needles needed: ball point sewign machine needle.

*Printing instructions: it comes in two paper sizes A4 or A3. If you print them in A4 you have to match the triangules in the sides of the paper.

Enjoy your pattern!!

Ler mais