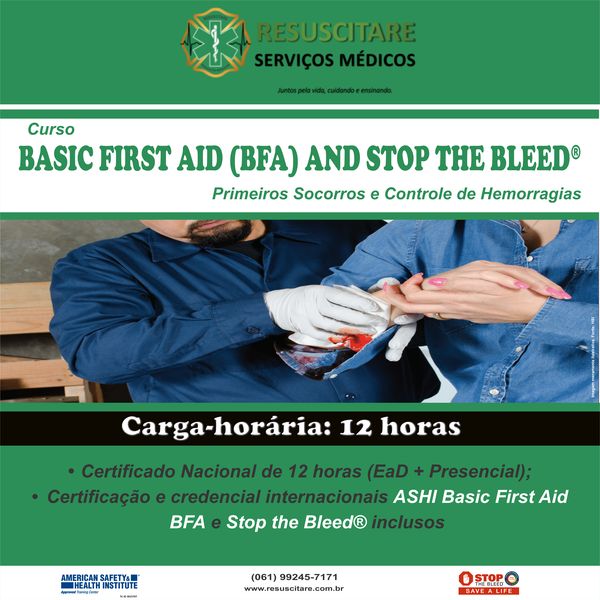 No curso BFA - Basic First Aid / Primeiros Socorros Básicos, os alunos desenvolverão conhecimentos básicos em primeiros socorros, habilidades e confiança para responder a situações clínicas ou traumáticas. O programa é uma excelente escolha tanto para o comunidade e local de trabalho, e está em conformidade com as atualizações da American Heart Association e da American Red Cross para Primeiros Socorros. Em conjunto, no curso STOP THE BLEED®, você aprenderá três técnicas rápidas para ajudar a salvar uma vida antes que alguém sangre: (1) Como usar as mãos para aplicar pressão em uma ferida; (2) Como fechar um ferimento para controlar o sangramento; (3) Como aplicar corretamente um torniquete. Essas três técnicas irão capacitá-lo a ajudar em uma emergência e potencialmente salvar uma vida.
A Resuscitare é um Centro de Treinamento autorizado da American Safety & Health Institute (ASHI) (TC-ID 3015707).
Público Alvo: População em geral
Carga-horária Total: 12 horas
Certificação: Certificado Nacional de 12 horas + Certificado e Credencial Internacionais ASHI de 8h com validade de 2 anos e Certificado e Credencial Internacionais Stop the Bleed® de 4h.
AVISO LEGAL: Este produto não substitui o parecer profissional. Sempre consulte um profissional da saúde para tratar de assuntos relativos a saúde.