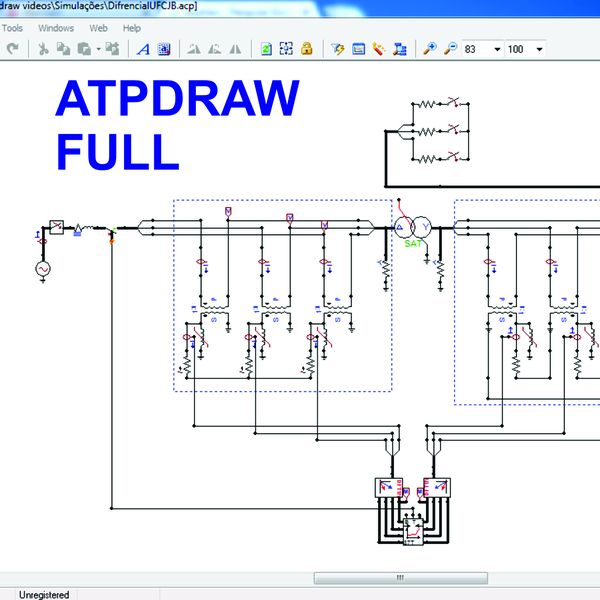 Português and English.
Curso completo para consultores, engenheiros, técnicos e alunos de engenharia elétrica, traduzido para o inglês.
Complete course for consultants, engineers, technicians and electrical engineering students, translated into English.

Curso completo de sistemas elétricos de potência com o simulador gratuito atpdraw, o mais famoso no MUNDO, lições em vídeo aulas, comentando através de exemplos no atpdraw, os diversos fatores dos sistemas elétricos, variações de tensão, fluxo de potência, corrente de energização, análise de sistemas, manobras... Onde temos os temas : circuitos elétricos, analise de sistema elétricos, correção do fator de potência e banco de capacitores, cabos elétricos, estudos de curto circuito, Transformadores, TC´s, T´ps, Proteção, linhas de transmissão, fluxo de potência, fluxo de carga harmônico, retificadores, descargas atmosféricas, para-raios, motores de indução, geradores de energia... tudo isso em uma plataforma digital feito para você criar consultoria e tirar todas as suas dúvidas em engenharia elétrica.

Complete course of electrical power systems with the free atpdraw simulator, the most famous in the WORLD, lessons in video lessons, commenting through examples in atpdraw, the various factors of electrical systems, voltage variations, power flow, energizing current, systems analysis, maneuvers ... Where we have the themes: electrical circuits, electrical system analysis, power factor correction and bank capacitors, electric cables, short circuit studies, Transformers, TC's, T'ps, Protection , transmission lines, power flow, harmonic charge flow, rectifiers, atmospheric discharges, lightning rods, induction motors, power generators ... all this in a digital platform made for you to create consulting and take all your doubts in electrical engineering.

Read More