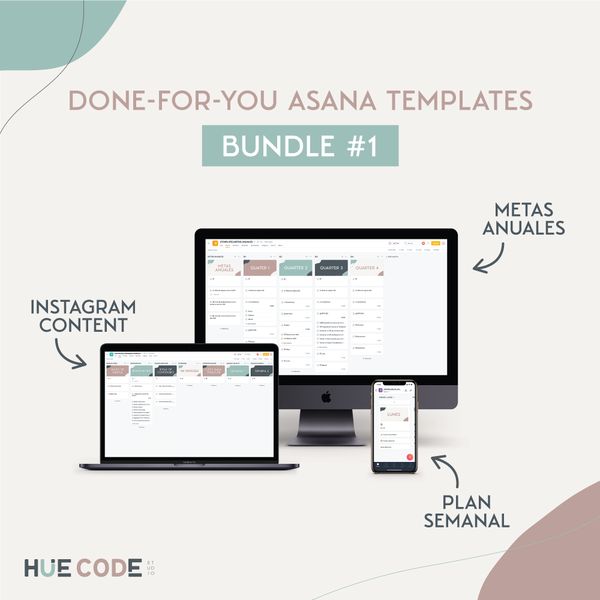 BUNDLE de 3 plantillas en ASANA hechas para ti: para la Planificación de tu Contenido en Instagram, tus Metas Anuales y tu Plan Semanal
Todo lo que necesitas para organizar desde tu creación de contenidos, las metas para el año y tu plan semanal. Todos estos puntos son clave para organizar varias partes de tu negocio y siempre estar on top of things.
PLANIFICACIÓN DE CONTENIDO EN INSTAGRAM
Con esta plantilla (template) tendrás mucho más claro cuáles son los pasos que debes seguir al momento de planificar tu contenido para Instagram. Desde la etapa del brainstorming, establecer tus pilares de contenido, conocer a tu cliente idea, anotar todas las ideas que tengas para el contenido que quieres crear, etc. Ya no te sentirás perdida al momento de crear tu contenido, pues tendrás un sistema que te ayudará a estar on top of things y ser consistente.
METAS ANUALES
Con esta plantilla (template) podrás establecer y plasmar todas las metas que tengas para el año. Es una manera increíble de poder tener una visión súper amplia de todas esas metas que quieres lograr en el año, desde visualizarlas para el año completo, hasta dividirlas por quarters (trimestres, el año tiene 4 trimestres). Te sentirás enfocada y con mucha determinación en realmente trabajar con mucho esfuerzo para lograr esas metas que tantos anhelas cumplir. El poder tener esa visión de tu año en un solo lugar, es un "game changer".
PLAN SEMANAL
Con esta plantilla (template) podrás organizar todas tus tareas de la semana por días. Es una manera súper fácil y efectiva de trabajar con tus tareas, ya que estarás estableciendo la prioridad de tus tareas por días depende el tipo de tarea si es urgente, importante o una tarea simple que solo tienes que hacer pero no es prioridad. Ya no te vas a sentir abrumada al momento de realizar tus tareas diarias, pues tendrás una visión clara y completa de como luce tu semana, qué cosas tienes que completar y la sensación de marcar algo en tu lista será tu mayor recompensa.